2023 Annual Meeting Election
The 84th Annual Meeting is scheduled for March 18, 2023. Watch for upcoming details on how to vote and RSVP for the meeting.
Join our Official Family!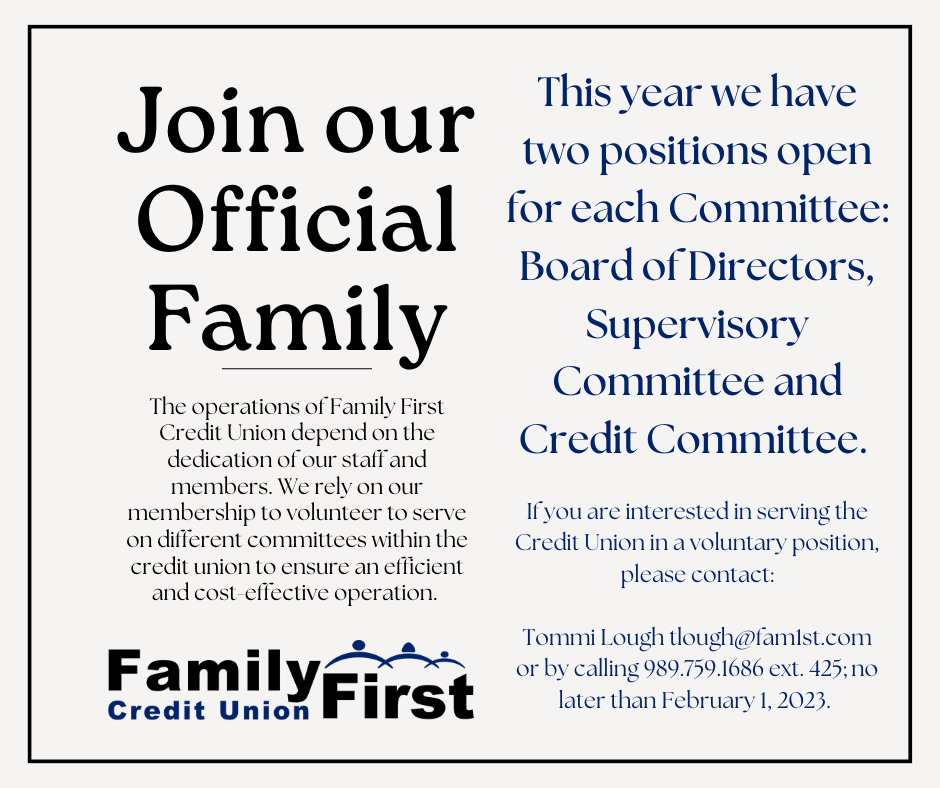 If interested in serving the Credit Union in a voluntary position, please contact: Tommi Lough, tlough@fam1st.com, 989.759.1686 ext. 425, no later than February 1, 2023.
2023 positions up for renewal (3-year term):
Board of Directors - 2 positions
Supervisory Committee - 2 positions
Credit Committee - 2 positions
Official Family 2022 - 2023
Our Official Family is comprised of Family First Credit Union members who volunteer their time to aid in the operation of the credit union. Each volunteer is elected to a 3-year term. Elections are held each March during our Annual Meeting.
Board of Directors
The Board of Directors consists of seven members who are responsible for setting policies, and for the general direction and control of the credit union.
Maurice Patterson Chairman
Ricardo Longoria Vice-Chairman
Joseph Turner Treasurer
Patricia Jacob Secretary
Rayunza Chism-Hood Director
Timothy Genovese Director
Sharon Doolan Director
David Kendziorski Associate Director
Shareka Martin Associate Director
Supervisory Committee
The Supervisory Committee is made up with five volunteer credit union members responsible for auditing and verifying the actions of employees and its established policies and procedures.
Dennis Browning Chairman
Michael Foust Secretary
Linda Burks-Jackson Member
Floyd Kloc Member
Karl Primdahl Member
Credit Committee
Our Credit Committee is comprised of five volunteer credit union members who act as the final decision body on loans that fall outside the approval limits of Loan Officers and Managers, as established by the Board of Directors.
Lori McGarrity Chairman
Kennie Kempter Secretary
John Moton Jr. Member
Stephanie Harden Member
Belinda Barlow-Poole Member